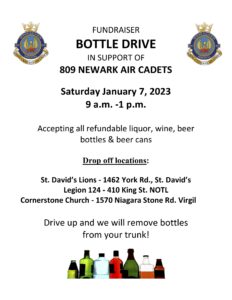 Happy New Year 809!
Cadets and Parents/Guardians,
Our first fundraiser for 2023 is coming up this Saturday morning, January 7. This activity helps provide funds so that the squadron can operate and run the training program. This is an "All Hands On Deck" activity – All staff, SSC members and cadets are expected to participate and we're also asking that parents/guardians take part as well.
Parents & Guardians, if you're able to help out (and we hope you are) and you have a pickup truck, please bring it with you, we'll need your help transporting bottles.
The Squadron is assembling at Van Noort's greenhouse, ready to go by 0815hrs.  We expect to be no later than about 1400hrs (2pm).  Van Noorts is located on the corner of Four Mile Creek Rd & Hunter Rd.    Saturday is looking to have a high of only 2 deg, so dress appropriately for being outdoors.   Bring a thermos with a hot drink as well to keep you warm.
For more information, or if you have questions, please reach out to either myself or Mr Cory Abt, our SSC Chair.
See everyone Saturday morning.
Lt Dan Couroux
CO
809 Newark RCACS
"Immortal"