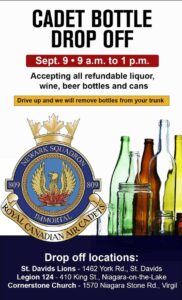 Good evening 809 Squadron,
809 Newark RCACS is conducting the first of 3 Bottle Drop Off's this Saturday morning.   This is a major fundraiser for the unit and all members are required to attend.    Cadets, bring your parents, siblings and friends to help out. It's a lot of work as well, and the more people we have helping out, the easier the job will be.
We depend greatly on the funds that these bottle drop offs provide.  In order to keep the program free we need everyone, including cadets, parents, staff and SSC members, to provide some sweat equity. To all the adults,  if you have a truck you can bring along for the day, please do. It will help us in transporting the bottles back to VanNoorts.   Make sure you wear something that is appropriate for the weather, yet you don't mind getting dirty. Please be at VanNoorts Greenhouse no later than 0830 to receive instructions and so that we can have everyone out to their stations by 0900hrs.
Make sure you bring water with you for the morning. Pizza will be laid on after we're finished up for the day.
What: Cadet Bottle Drop Off
When: Saturday, September 9 @ 0830hrs until approx 1400hrs
Where: VanNoorts Greenhouse (Corner of Hunter Rd & Four Mile Creek Rd)
Dress: Appropriate Civilian Attire
Any questions, please forward them over to myself
Regards,
Lt Couroux
Commanding Officer
809 Newark RCACS
"Immortal"