Our last fundraising event, and last cadet function, for the 2022-23 training year will be a bottle drop off on Saturday, June 10 0830-1400.   Participation is mandatory for Cadets, Staff & SSC members.    Parents & Guardians are asked to help out with the sorting and transportation of bottles from the drop off locations to the warehouse at VanNoorts.    We need everyone's help to pull this off.
Everyone will assemble at VanNoorts greenhouse on  4 Mile Creek Rd at the corner of Hunter Rd. at 0830hrs.   From there, you will be briefed on your location and responsibilities.
We will all meet back at VanNoorts after the locations close at 1300.  From there, cadets and participants will be treated to a pizza lunch before being released for the day.
This is our largest fundraiser.   We need your help in raising the funds in order to provide training and to pay for our facilities.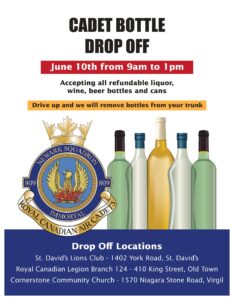 Regards,
Lt Dan Couroux
CO
809 Newark RCACS
"Immortal"