This message just came down from RCSU with regards to the CAP. I have received the new joining instructions, however I just learned that the links are flawed and that I should expect a revised copy shortly. As soon as I get it, I'll email to each of the cadets in the squadron. Please read the following:

Regard,
OCdt Couroux
DCO
"Immortal"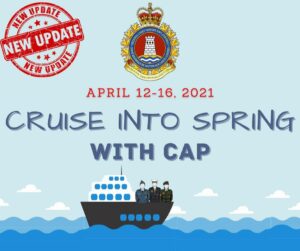 Due to technical issues with the CCO Portal, we will NOT be using this option for the upcoming #CentralCAPCruise this week.

The cadets will no longer need an account for the CCO Portal. Instead, the CAP content will now be hosted using an alternative platform. No account creation or sign-up is required.

Your corps/squadron staff have been sent an email with details. They will be in the best position to help you access everything you need to have fun this week!

See you on deck tomorrow at 9am SHARP!