1085-10 (CO)
15 Sep 2019
Dist List
OPERATIONS ORDER: AUTUMN FTX
Situation:

809 Squadron requires a Field exercise to be conducted the weekend of 1-3 November 2019.

Mission:

809 Squadron will conduct a field training exercise to build upon and enhance the level training for survival, leadership and teamwork and mandatory field training.

Execution:

The cadets will commence training on Fri 23 Nov 2018 at 1900 hrs at Wetaskiwin Camp, St Catharines, ON. They will complete training on Sun 25 Nov 2018 at 1400. For a detailed itinerary please see Annex A.
The exercise will be conducted in four phases as follows:

Phase 1 – Planning – Sep 2019

Scheduling and exercise layout
Paperwork submitted to 809 Squadron CO for approval
Paperwork submitted to NGTA Office (NLT 15 Sep 2109)

Phase 2 – Advance Party – 1500 1 Nov 2019

A team is to drive up to Camp Wetaskiwin in advance of the exercise.
The team will set up all supply and accommodation logistics as directed by the weekend OPI
The team will meet Detachment Supply at Wetaskiwin by 1500 to obtain all requested stores and rations

Phase 3 – Training – 19:00 1 Nov 2019

All cadets and staff will execute the exercise as laid out on the schedule in Annex A

Phase 4 – Tear-down and Departure

All training staff will continue to follow Annex A for tear-down
All supplementary orders will come through the OPI or designate

Taskings:

Exercise OIC – Capt J. Lemoine
Exercise TrgO – Lt M. Russell
Exercise LogO – CI S. Carbone
Exercise AdminO – 2Lt R. Nicolescu
Training Staff

Remaining 809 squadron staff and senior cadets

Meals

LogO

Advance Party

OIC
(TBD)

Service and Support

Rations

Friday

All cadets are expected to arrive already fed dinner
Squadron Sponsorship Committee will provide fresh rations for the dinner of the advance party members

Saturday

All three (3) meals will be MREs provided by Detachment

Sunday

Both (2) meals will be MREs provided by Detachment

Supply and Logistics

See Annex B – London Warehouse Stores List Request
809 Squadron Stores will be pulled from the SupplyO the training night prior to the exercise

Supply will be loaded and transported to the exercise by cargo van on Friday 1 Nov 2019

Transportation:

See Annex D – Camp Wetaskiwin Map

See Annex D – Appendix 1 – Directions to Camp Wetaskiwin

All cadets are expected to provide their own transportation to and from Camp Wetaskiwin

Drop off NLT 1900 1 Nov 2019
Pick-up NLT 1400 3 Nov 2019

One Cargo Van will be required to transport Squadron Kit and act as an emergency vehicle

Capt J. Lemoine is in possession of a valid 404 drivers license

Accommodations:

Accommodations will be four (4) occupant cabins

Emergency Action Plan:

In case of an emergency all actions will be directed through the officer staff and OPI
The squadron mobile phone (905-468-7584) will be available for emergency use during the activity
All cadet home phone contact numbers will be kept with the AdminO at all times
The closest hospital is located at:

1200 Fourth Avenue, St Catharines, ON L2S 0A9 (Phone 929-378-464)

Dress:

Authorized dress for this exercise:

CAF Members – Operational (CADPAT)
Civilain Staff – Civilian Dress
Cadets – Civilian Dress or FTU (see Annex C for cadet kit list)

Safety/First Aid:

For any minor incidents, the First Aid Officer for the exercise is CI Carbone

He will be in possession of a first aid kit

For major incidents the local ambulance/hospital will be notified
Cadets must be in possession of an Ontario Health Benefits card at ALL times, as well as any medical alert information, asthma inhalers, and/or epipen kits
In the event that a cadet or staff member is hospitalized, the parent/guardian/next of kin will be notified immediately via the emergency contact phone numbers

Any further action required will be determined at that point in time
The NGTA Office be contacted at the earliest opportunity

Command and Signals:

Command Structure is as follows:

OPI – Capt J. Lemoine
2IC – Lt M. Russell
3IC – 2Lt R. Nicolescu

Communications:

The squadron mobile phone (905-468-7584) will be available for emergency use during the activity

All inquiries should be directed to the undersigned
OCdt D. Couroux
TrgO
809 Squadron
Telephone: (905) 468-7584
Annexes
Annex A
Annex B
Annex C
Annex D
Dist List Info
CO
TrgO
NGTA6 ZTrgO – Capt C. Hollands
---
Annex A – Detailed Schedule
(To be provided)
---
Annex B – Stores List Request
(Available on request)
---
Annex C – Kit List
All cadets should be in possession of the following clothing and equipment in order to ensure a safe, productive, and enjoyable training exercise:

Ontario Health Card (This is a MUST!)
T-shirts (6)
Pants, Preferably Quick Dry (No Jeans) (4)
Sweater or Sweatshirt (3)
Underwear (4)
Pairs of Socks (8)
Jacket (Waterproof May be Necessary) (1)
Hat (1)
Boots (No Shoes, Waterproof) (1)
Pillow (1)
Face Towel and Body Towel (1)
Flashlight (1)
Sunglasses (1)
Sunscreen (1)
Chapstick
Large Water Bottle (Filled with WATER, BPA-Free) (1)
Toiletries and Personal Hygiene Items
Appropriate Sleeping Attire
Prescription Medication
(ONLY ENOUGH FOR THE WEEKEND; Notify officer staff immediately upon arrival at Camp Wetaskiwin)

Please note that due to the nature of the weather this time of year it is difficult to account for all personnel kit items. Please use appropriate discretion with packing and follow the weather reports up until departing for the exercise. We will train rain or shine. Please also take into consideration that we will be sleeping in tents and the amount of personal kit space is very limited.
The following optional equipment may be brought:

Camera

Do NOT bring any of the following:

Expensive jewelry
Money
Knives
Non-prescription medication (Advil, Tylenol)
Mobile phone

We are not responsible for lost or broken items, and have a zero tolerance for theft.
---
Annex D – Camp Wetaskiwin Map
See below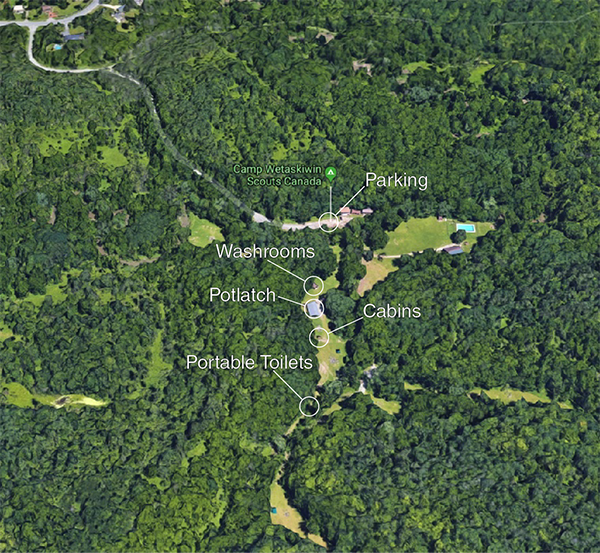 ---
Annex D – Appendix 1 – Directions to Camp Wetaskiwin
From Niagara-on-the-Lake:

Follow Highway 55 toward St. Catharines
Turn right at Queenston Road
Turn left on Welland Canals Parkway
Turn right on Glendale Avenue
Turn left on Pelham Road
Turn left on Scout Camp Road
Arrive at Camp Wetaskiwin