Our Handball team met their match with 87 Eagle Squadron from Welland – the eventual winners of the Handball trophy. They fought hard – well done 809! Team Captain WOII Giansante, WOI Lavoie, FSgt Griffin, Sgt Couroux, FCpl Gowans, FCpl Nicolescu, Cpl Abt, Cpl Miele & Cpl Voogt.
The day was interrupted for an impromptu selfie with LCol Evans and CWO Hill (from Regional Cadet Support Unit Central in Borden). LCol Evans commented on our 809 T-shirts (well done CI Thiffault!) and said she would like one as well – we will send her and CWO Hill their very own this week.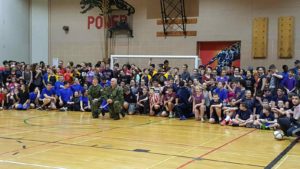 Our volleyball team remained undefeated for the ENTIRE day – until the championship match against 62A. You can imagine our distress when it came down to a tie-breaker. At one point 62A was up 6-0 then 16-8. But our team pulled together and tied it up to 18-18! A final two serves and we were victorious! And there was much rejoicing.
Team Captain FSgt Lett, FSgt Zalepa, FCpl Lett, Cpl Bell and Cpl Hill accept the NAG Volleyball trophy for 1st place.(missing from the photo: Sgt Carbone & Cpl Milana)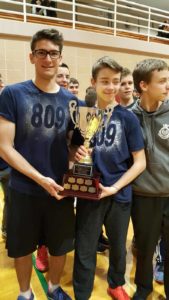 Photo credits to Mr. Carbone.
CONGRATULATIONS to all our players. It was a great day – hope you're getting some rest today!