Bottle Drop Off – Saturday, June 10 – 0830 hrs – VanNoorts Warehouse
 Where: VanNoorts Warehouse on Hunter Rd @ 4 Mile Creek Rd
When: Saturday June 10, 2023 @ 0830hrs
Who: All Cadets, Parents/Guardians, Staff and SSC members
This is the final activity for the 2022/23 training year. All members of the squadron are required to be on-hand for the fundraising activity.   The more hands on-board, the more we can accomplish.  We do this 4 times a year and it's our our largest fundraiser.
PARENTS & GUARDIANS – We need your help too!  We know you value the program, otherwise you wouldn't have your children join the unit.  The funds we generate from bottle drives help support training activities, help pay the rent for our facility and keep the program free for the cadets!  All this while providing a service for the community.   We need your help to help sort bottles and to transport them from the drop off locations back to the warehouse.  If you have a truck or SUV that can be used to assist please bring it.
Please pass information along to friends about the drop off points. Here's the info: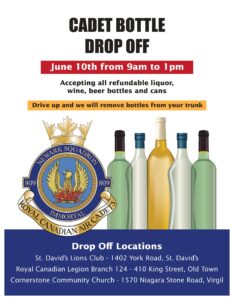 See everyone on Saturday and keep in mind, our next bottle drive will be Saturday, September 9 (the weekend after Labour Day)
Sincerely,
Lt Dan Couroux
Commanding Officer
809 Newark RCACS
Immortal!